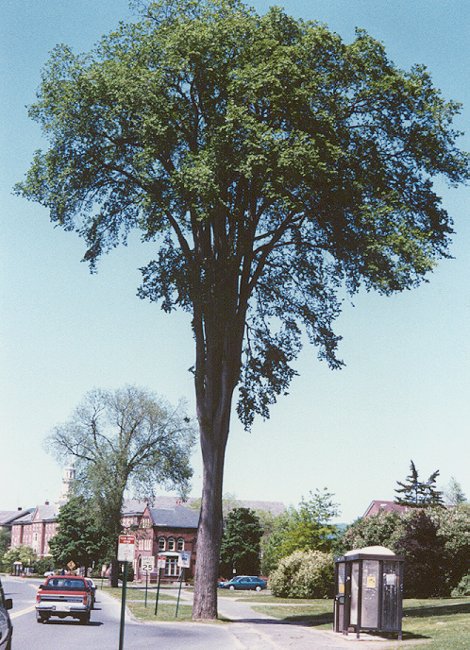 "A shapely American elm at the University of Massachusetts, Amherst, MA "
Source: http://www.elmpost.org/, accessed 27 August, 2010.
When I was a lad American elms were large shade trees that lined many a street in my home town of Wilmette, Illinois. In fact, most towns of any size in America still have an Elm Street. But during the latter half of the 20th Century the species was almost made extinct by a fungal blight called
Dutch Elm Disease
, that was carried by a beetle that bored into their bark.
Here in New England our autumns have always been spectacular because our forests are so diverse. It is said that New Hampshire has more different species of deciduous trees than anyplace else on Earth, with the possible exception of some parts of Siberia. Our autumn colors are legendary. But I remember the view to the east from the fourth floor of James Hall at Amherst College in 1961, and I truly miss the Elms. We no longer have the glowing yellow highlights that they lent to the autumn forest's flames.
Today there is hope for a regeneration of the American Elm. Several non-profit organizations have been working to produce clones of the few surviving elm trees, those that had some natural resistance to Dutch Elm Disease.
The Campton Conservation Commission teamed up with the local garden club and the town's historical society to buy one of those cloned trees, and has planted it across the road from our home, in The Pattee Meadow. Our home was once the farm house of the Pattee family, and the field across the road was where the local regiment of New Hampshire Volunteers held "musterings" during the Civil War. So that field, which the town bought as conservation land just two years ago, after Eddie Pattee, the last of the line to live here in Campton, passed away, was as good a place to plant the elm as any. Especially so, as this tree came from the Elm Research Institute (ERI) of Keene, NH, sponsors of the
American Liberty Elm
program.
Disney dramatization
) as "The Liberty Tree."
The first gold leaf.
As its nearest neighbor, I volunteered to keep Campton's Liberty Tree watered for its first month in Pattee Meadow, a chore I've been doing each morning with both civic and patriotic pride.